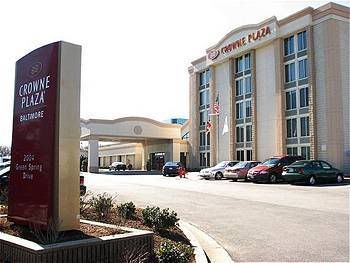 Crowne Plaza Hotel in Timonium - this year's locale for the Mid-Atlantic Actor/Model Expo.
'Afternoon ladies and gents!
I've had a pretty busy October already and it seems my body's paying for it today. Thankfully it's not any kind of flu as I don't have a fever or any aches or chills and I've already gotten the basic flu shot (woohoo!).
This article here
may give you an insight to how I (and perhaps you) may be feeling as of late.
Today's my day off to recover and catch up on some acting-business work that I need to attend to. I spent this past weekend doing several things. On Friday night, I caught "The Game of Love and Chance" at
1st Stage Spring Hill
in McLean. I've been watching this company grow since last August and I have to say every show has consistently impressed me. Some of the best acting and directorial work I've seen in the area. If you haven't been by there for a show, I highly recommend it.
Saturday I spent rehearsing for
Deviated Theatre's
"LORE," which went wonderfully. We decided to experiment with running the show whilst incorporating a bit of mask work, something we hadn't done yet as a cast. The results were quite interesting and forced everyone to become more innovative in their physical approach and creative in their roles. In our end of rehearsal pow-wow we shared our experiences and everyone seemed to benefit from "hiding" themselves and letting their character fully take over. It's moments like that when performers are 100% absorbed and dedicated to being someone else that puts me intoa rapture or zone of sorts; whether I'm watching or participating. It's what I do this for. We open in 2 and a half weeks and it's thrilling to still be able to discover new things a year into the process.
Sunday I spent about three hours at the Mid-Atlantic Actor/Model Expo hosted by
Brian Dragonuk
at the Crowne Plaza in Timonium. I had been hearing about the event for the past month and thankfully my Sunday was open and I was able to attend. I prepped a bunch of resumes, cover letters, and packed a chunk of flyers for LORE as well as a stack of business cards. Let me tell you, because I was ready, I had an extremely productive three hours! I met with several casting agencies and handed them my materials; something I would probably not have been as comfortable with three years ago when I just graduated from UMBC. Since I've been doing my research and have a better grasp on the DC/MD/VA scene, I was happy to be able to submit myself and meet these casting directors in person.
I also said hello to some familiar faces and saw college friends as well as friends I've met through auditions or work in the area. Of course I made some new friends as well; I had a delightful talk with Craig Herron of
Herron Designs
about the
29 Days Later Film Project
, animation, and puppets; including some talk about Tim Burton and
Ray Harryhausen
, which was awesome! I also had the chance to meet and talk with
Brenna McDonough
about her classes which I've been interested in taking for quite a while, my schedule (as busy as it is) be damned. Here's hoping this fall/winter will be more promising. I even got to meet Joe Ripple of
Time Warp Films
. I had attended a workshop of his last summer at
Horrorfind Weekend
at UMUC (see blog post:
Tips to Solve Your Issues with HORROR
). I really respect his advice not only because of his film experience, but also because of his background as a cop. He really outlined last summer what actors should expect in terms of safety on the set when it comes to filming actors in vulnerable or exposing scenes.
There seemed to be a few press people wandering around the event as well, filming things, so it seemed like the event got pretty good coverage. I ended up giving some of my thoughts to
William Powell
of the
DC Examiner
for an article of his as well as giving a filmed testimonial of me geeking out over the Dragonuk Connects mailing lists. The latter may be featured on Brian's new website and we'll see if they keep the part where I totally nerd out at the end. :)
All I can say is, if you weren't there this year, you should absolutely go next year!
Speaking of which, I'll be taking some time now to update my contacts with all of the new connections I made. Back to the grind, but I definitely feel renewed after this weekend, loving what I do and just learning that when you embrace your opportunities and possibilities, they're right there to embrace you back.
-Vaness.
www.vanessastrickland.net