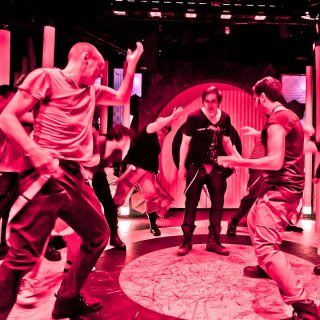 Maybe I'm a touch biased, but I feel the following is a very perceptive, descriptive, and encouraging review for
A Clockwork Orange
. Sometimes it's difficult to know how a show is being recieved when you're in the midst of it for so long, but from speaking with audience members, this review confirms that it's striking the right chords. An ode to joy, indeed. :)
"Burgess wrote it as a "play with music," and the MET creative staff and acting ensemble have done an innovative job of integrating not just a stunning variety of music, but their own voices at once grunting and groaning as a chorus and then exploding into blended rhythmic chants and, when required, finding the musical quality in the strange "Nadsat" slang language Burgess invented. At first, it was disturbing that I could understand maybe 25 percent of what the characters were saying in the early scenes. It quickly became obvious that it didn't matter. The sound itself and the expressiveness of the performance tell you all you need to know."
Read the rest of the article here
We close this Saturday night, which is bittersweet to me, but I am thrilled to have had the chance to work with such an amazing, ass-kicking group of people. This has been a truly unforgettable experience and my only qualm is working with them again can't come soon enough.
Bring it.
-Vaness.