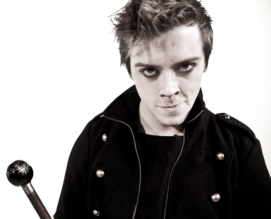 Two reviews of
A Clockwork Orange
from opening weekend have been released:
Charlie Smith of Want2Dish:
"Joe Jalette delivers a riveting performance as the abused and confused anti-hero Alex, bringing vividly to life his tortured psyche and search for identity. As the only character in the ensemble piece with a through-line, it falls upon his shoulders to carry the show and engage the audience in his journey."
Read the rest of this review here:
Want2Dish: Theater Review: MET's Clockwork Orange
Roy Meachum of The Tentacle:
"The brilliant cast [Herber] worked with I have mainly never seen before. The actors turn in a truly ensemble performance, switching costumes and roles discriminately."
Read the rest of this review here:
The Tentacle: A REVIEW: Clockwork Orange: Coming of Age
We dive into our second weekend of shows tonight! If you want to come, better call and reserve- opening weekend sold out completely and it looks as if we may be having more sold-out houses in the weekends to come! Information follows below:
A CLOCKWORK ORANGE
A PLAY WITH MUSIC
BY ANTHONY BURGESS
DIRECTED BY JULIE HERBER
May 20, 21 @ 8pm
June 3, 4 @ 8pm
June 5 @ 2pm
June 9, 10, 11 @ 8pm
June 12 @ 2pm & 7pm
June 16, 17, 18 @ 8pm
BUY ONLINE HERE
or call the box office at 301-694-4744, press '1'
Adults ($23.50), Students/Seniors ($20.50), "First Friday" (All Seats $5 on 5/13 ONLY*), Thursday & Sunday Evenings (All seats $16.50). Ticket price includes a $1.50 handling charge.
No Refunds- Exchanges Only!
Please do not order tickets online after 4pm on the day of the performance you wish to attend.
Viddy you at the MET!
-Vaness