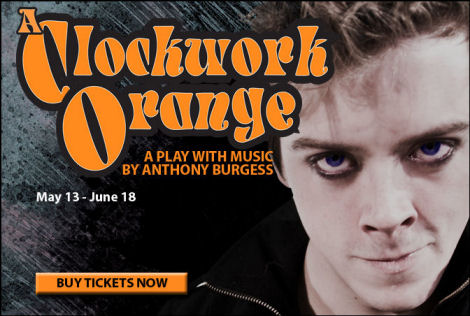 I am unbelievably excited to announce that I will be performing in
Maryland Ensemble Theatre's
upcoming production of
A Clockwork Orange
! We dive into tech next week and I'm really happy with what this show is becoming. Aside from telling Alex's story, there's an abundance of fights, dances, and songs interwoven into the text. For such an intense play (and really any play), the actors need to be able to trust each other. Rehearsals have been an exercise in trust and generosity, and speaking for myself at least, I have not been let down.
I think of how magical live performance really is... and I've already waxed sentimental about when this show closes, even though we've not opened yet. The ephemeral nature of the work is what makes the process and people involved so special. This creative amoeba comes together from the hearts of those involved, reaches out and causes others to react, and then leaves with the scattering artists and audience. A moment there and gone.
I've already received all kinds of feedback from friends, family, and colleagues about this show; varying from excitement to repulsion. As a performer in the ensemble who plays most of the characters who suffer at the hands of Alex, I have to say both reactions are completely valid. I accepted the role because of my love for the story, the theatre, and the chance to perform with a really amazing bunch of people. We want to bring you on that journey with us, through chaos and fear to eventually emerge with a new sense of hope- or at least a new perspective. Isn't that the idea?
I hope you'll join us and find out:
A CLOCKWORK ORANGE: A PLAY WITH MUSIC
BY ANTHONY BURGESS
DIRECTED BY JULIE HERBER
In future Britain, charismatic delinquent Alex DeLarge is jailed and later volunteers for an experimental aversion therapy developed by the government in an effort to solve society's crime problem... but not all goes as planned. Forget your memories of the cult film, this infamous darkly comic morality tale will bend your mind in a whole new way. For mature audiences only!
May 13 @ 8pm [Preview]
May 14 @ 8pm [Opening]
May 20, 21 @ 8pm
June 3, 4 @ 8pm
June 5 @ 2pm
June 9, 10, 11 @ 8pm
June 12 @ 2pm & 7pm
June 16, 17, 18 @ 8pm
Tickets: Adults ($23.50), Students/Seniors ($20.50), "First Friday" (All Seats $5 on 5/13 ONLY*), Thursday & Sunday Evenings (All seats $16.50). Ticket price includes a $1.50 handling charge.
*$5 Preview tickets are only available at the box office one hour before the performance and are CASH ONLY!
No Refunds- Exchanges Only!
Please do not order tickets online after 4pm on the day of the performance you wish to attend.
-Vanessa
www.vanessastrickland.net