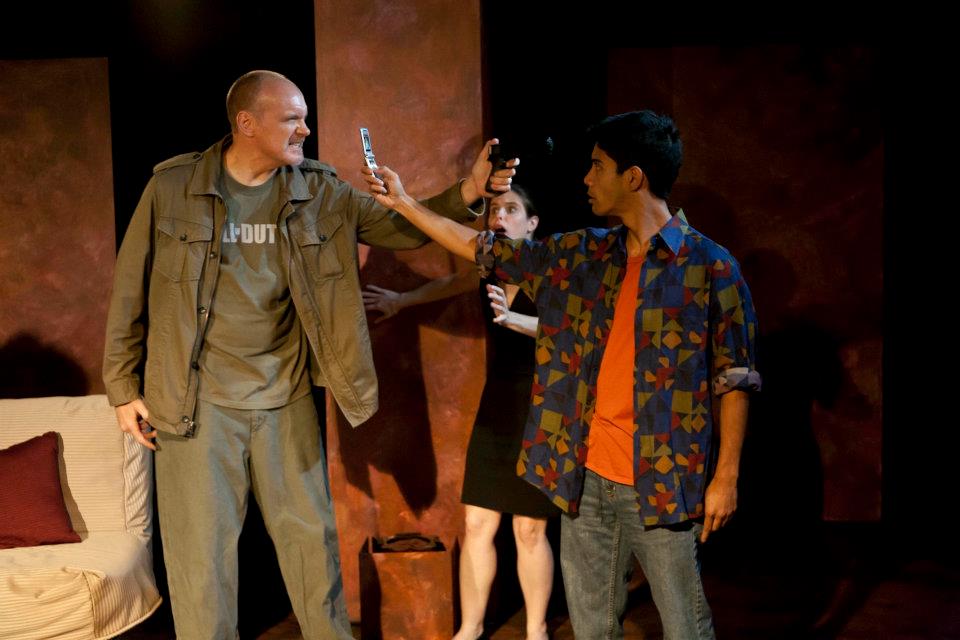 Photo by Joe Williams
"Torture" closes this weekend! We have 4 performances left: Thursday through Saturday at 8pm and Sunday at 7pm!
Check out some of the reviews we've gotten for this dark comedy:
Larry Bangs of
The Gazette
writes:

"The play turns out to be an emotional roller coaster ride that spits you out with some things worthy of reflection. And it does so very well. There are strong performances from a uniformly excellent cast... The strength of MET is in its ensemble. Even in a play like this with very clearly drawn, individual characters, Director Gené Fouché keeps the very disparate character elements together in a cohesive whole. This play is not for the meek of heart. It is for anyone who enjoys good theater and being challenged to 'think outside the box.'"
(
Read the rest of The Gazette review here
)
We were also reviewed by J. Wynn Rousuck on
"Maryland Morning"
on
WYPR 88.1FM
:

"[Torture] uses humor to make you think, and at it's best, squirm... [The character of] Felicity believes 'you can choose to be your better self'; Durang clearly wants to believe this can also be true of governments. It's a notion that Maryland Ensemble Theatre puts across with humor and hope."
(
Listen to the rest of the broadcast here
)
And our most recent review, from Charlie Smith of
Want2Dish.com
:

"Director, Gené Fouché, manages the farcical chaos and hairpin turns of the script without resorting to sitcom cliché, treating the subject matter with a seriousness and intention that is considered and intelligent... It made all of us think. It made all of us question our own beliefs and behaviors and for that, the MET is to be congratulated. Theatre should provoke and inspire debate and, even sometimes, discomfort, which seems to be what Durang intended with the show, and what the MET has achieved."
(
Read the rest of the Want2Dish review here
)
You can
purchase tickets online
, or call the
MET
box office at 301-694-4744
Hope to see you at the MET this weekend!
-Vaness