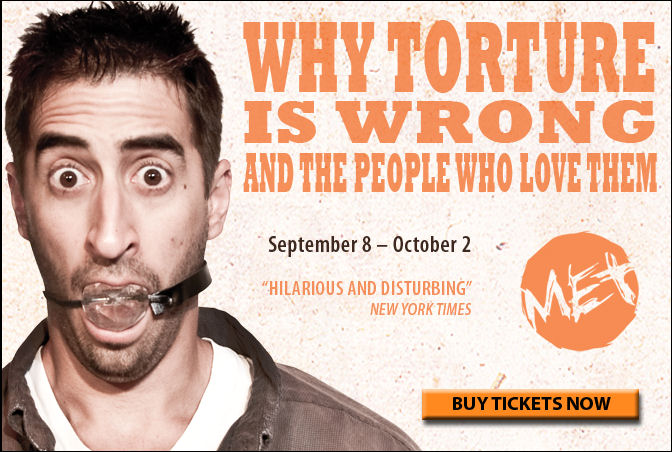 Torture has opened! Click the image above to purchase tickets online, or call the
MET
box office at 301-694-4744
An article from the
Gazette
was released yesterday to coincide with preview night. It features some insight from director Gene' Fouche' and actors Tim Seltzer and myself:
"Torture may be wrong, but as seen through the eyes of The Maryland Ensemble Theatre (MET), starting Thursday — it's also darkly funny. Just prior to the 10-year anniversary of the terrorist attacks of Sept. 11, 2001, the MET will tackle a production of "Why Torture is Wrong, and the People Who Love Them," a comedy by Christopher Durang.
The play's heroine, Felicity, wakes up after a night of drinking to find Zamir, a strange man of an indeterminate ethnicity, in bed with her. Having no memory of how she met him, and due to his erratic behavior, she concludes that he must be a terrorist. Felicity goes to her parents for help, and things get worse when she learns that her father, Leonard, is a member of a shadow government who decides to take the situation into his own hands by torturing Zamir into a confession. As things spiral out of control, Felicity wishes more and more for a rewind button, but the outcome is more likely to leave the audience in stitches rather than cowering in fear, says director Gené Fouché."
-Vaness